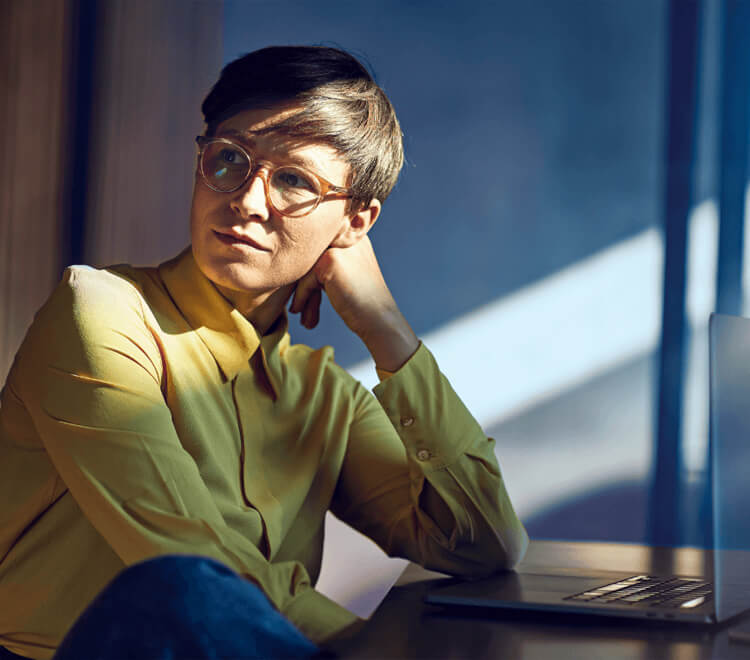 TESTS FOR PATIENTS WITH EARLY-STAGE CANCER
Improving the management of early-stage cancer
---
For doctors treating patients of early-stage cancer, two fundamental questions remain after surgery: Does any cancer remain? What is the risk of the cancer returning? Our test helps answer these questions by quickly and conveniently detecting minimal residual disease (MRD) from a simple blood draw.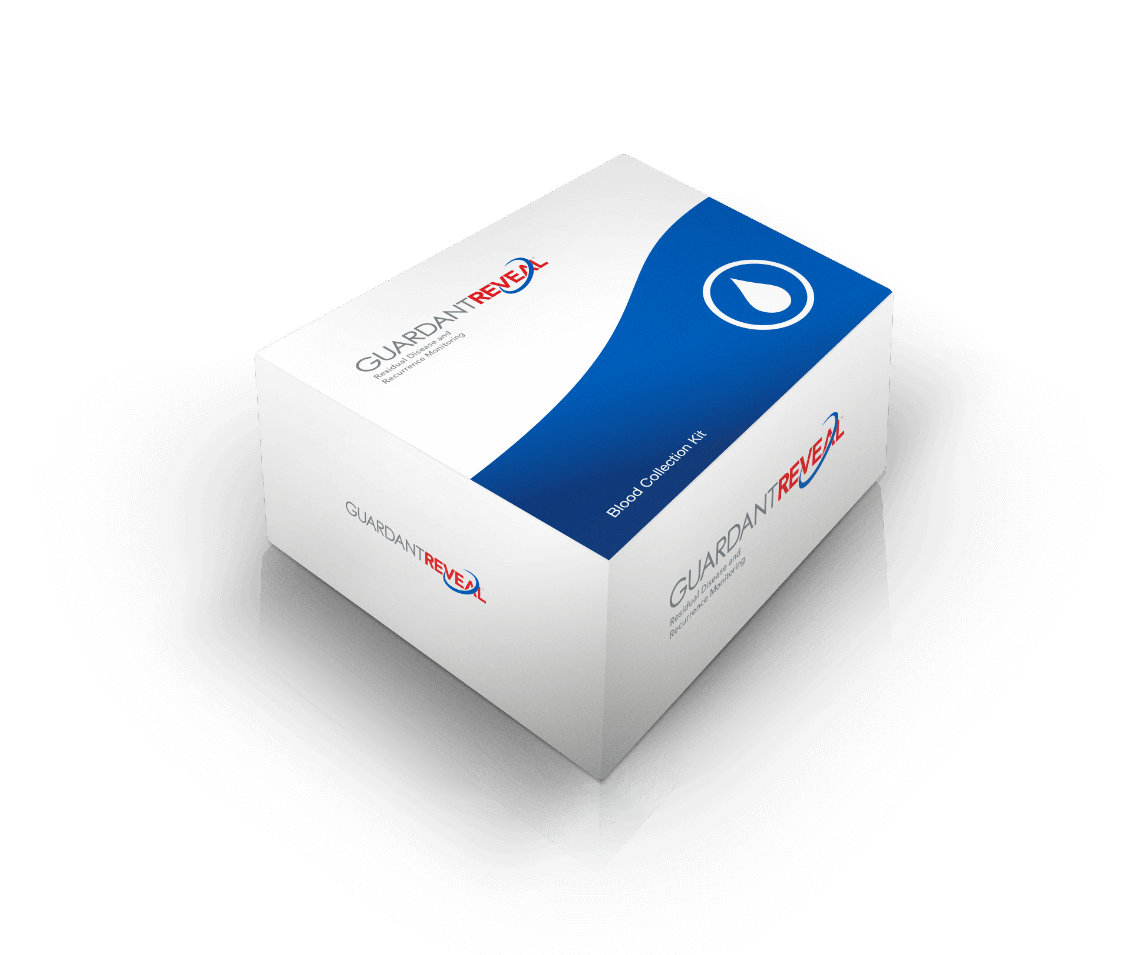 Residual disease detection and recurrence monitoring
Guardant Reveal™ is a revolutionary blood-only liquid biopsy test that detects circulating tumor DNA (ctDNA) for minimal residual disease (MRD) assessment in early-stage colorectal, breast, and lung cancers. In addition to detection of MRD, Guardant Reveal is also available to monitor recurrence in previously diagnosed patients. Guardant Reveal is covered for fee-for-service Medicare patients with Stage II or III CRC whose testing is initiated within three months following curative intent therapy.
Aggarwal C, Thompson JC, MD; Black TA, et al. Clinical Implications of Plasma-Based Genotyping With the Delivery of Personalized Therapy in Metastatic Non–Small Cell Lung Cancer. JAMA Oncology. 2019;5:173-180.
Palmero R,Taus A, Santiago V, et al. Biomarker Discovery and Outcomes for Comprehensive Cell-Free Circulating Tumor DNA Versus Standard-of-Care Tissue Testing in Advanced Non–Small-Cell Lung Cancer. JCO Precision Oncology. 5;2021:93-102.
Leighl NB, Page RD, Raymond VM, et al. Clinical Utility of Comprehensive Cell-free DNA Analysis to Identify Genomic Biomarkers in Patients with Newly Diagnosed Metastatic Non-small Cell Lung Cancer. Clinical Cancer Research. 2019;25:4691-4700.
Raja R, Kuziora M, Philip Z. Brohawn PZ, et al. Early Reduction in ctDNA Predicts Survival in Patients with Lung and Bladder Cancer Treated with Durvalumab. Clin Cancer Res; 2018: 24(24): 6212-6222. DOI: 10.1158/1078-0432.CCR-18-0386.
Aggarwal C,Thompson JC, Chien A, et al. Dynamic monitoring of circulating tumor DNA next-generation gene sequencing as a predictive biomarker of response and progression-free survival after pembrolizumab monotherapy in patients with advanced NSCLC.J Clin Oncol; 2019: 37:15 suppl, 3040-3040. DOI:10.1200/JCO.2019.37.15.
Kim ST, Cristescu R, Bass AJ, et al. Comprehensive molecular characterization of clinical responses to PD-1 inhibition in metastatic gastric cancer. Nat Med; 2018: 24(9):1449-1458. DOI: 10.1038/s41591-018-0101-z.
Shaw AT, Martini JF, Besse B, et al. Early circulating tumor (ct)DNA dynamics and efficacy of lorlatinib in patients (pts) with advanced ALK-positive non-small cell lung cancer (NSCLC). J Clin Oncol; 2019: 37:15_suppl, 9019-9019. DOI: 10.1200/JCO.2019.37.15.
Pascual J, Cutts RJ, Kingston B, et al. Assessment of early ctDNA dynamics to predict efficacy of targeted therapies in metastatic breast cancer: Results from plasmaMATCH trial [abstract]. In: Proceedings of the 2020 San Antonio Breast Cancer Virtual Symposium; 2020 Dec 8-11; San Antonio, TX. Philadelphia (PA): AACR; Cancer Res 2021;81(4 Suppl):Abstract nr PS5-02.DOI: 10.1158/1538-7445.SABCS20-PS5-02.
Mack PC, Redman MW, Moon J, et al. Residual circulating tumor DNA (ctDNA) after two months of therapy to predict progression-free and overall survival in patients treated on S1403 with afatinib +/- cetuximab.J Clin Oncol; 2020: 38:15_suppl, 9532-9532. DOI: 10.1200/JCO.2020.38.15.
Maron SB, Chatila WK, Millang BM, et al, Pembrolizumab with trastuzumab and chemotherapy (PTC) in HER2-positive metastatic esophagogastric cancer (mEG): Plasma and tumor-based biomarker analysis. J Clin Oncol; 2020: 38:15_suppl, 4559-4559. DOI: 10.1200/JCO.2020.38.15.
Modi S, Park H, Murthy RK, et al. Antitumor Activity and Safety of Trastuzumab Deruxtecan in Patients With HER2-Low-Expressing Advanced Breast Cancer: Results From a Phase Ib Study. J Clin Oncol; 2020: 38(17):1887-1896. DOI: 10.1200/JCO.19.02318.
Zhang Q, Luo J, Wu S, et al. Prognostic and Predictive Impact of Circulating Tumor DNA in Patients with Advanced Cancers Treated with Immune Checkpoint Blockade. Cancer Discov; 2020: 10:12, 1842-1853. DOI: 10.1158/2159-8290.CD-20-0047.
Thompson JC, Carpenter EL, Silva BA, et al. Serial Monitoring of Circulating Tumor DNA by Next-Generation Gene Sequencing as a Biomarker of Response and Survival in Patients With Advanced NSCLC Receiving Pembrolizumab-Based Therapy. JCO Precis; 2021: 5, 510-524. DOI: 10.1200/PO.20.0032.
Reinert T, Henriksen TV, Christensen E, et al. Analysis of Plasma Cell-Free DNA by Ultradeep Sequencing in Patients With Stages I to III Colorectal Cancer. JAMA Oncology. 2019; 5 (8): 1125-1131.
Tie J, Wang Y, Tomasetti C, Li L, Springer S, et al. Circulating tumor DNA analysis detects minimal residual disease and predicts recurrence in patients with stage II colon cancer. Science Translational Medicine. 2016; 8 (346): 346ra92.
Tie J, Cohen J, Wang Y, et al. Circulating Tumor DNA Analyses as Markers of Recurrence Risk and Benefit of Adjuvant Therapy for Stage III Colon Cancer. JAMA Oncology. 2019; 5(12): 1710-1717.
Peng J, Li Y, Mo S, Ma X, Hu X, Zhang L, et al. Prognostic value of circulating tumor DNA (ctDNA) detection during adjuvant chemotherapy in patients with stage III colorectal cancer: The interim report of a prospective, observational study. Journal of Clinical Oncology. 2020; 38, no.4_suppl.
Tarazona N, Gimeno-Valiente F, Gambardella V, et al. Targeted next-generation sequencing of circulating-tumor DNA for tracking minimal residual disease in localized colon cancer. Annals of Oncology. 2019; 30 (11): 1804-1812.
Reece M, Saluja H, Hollington P, Karapetis C, et al. The Use of Circulating Tumor DNA to Monitor and Predict Response to Treatment in Colorectal Cancer. Frontiers in Genetics. 2019; 10: 1118.
Kim ST, Raymond VM, Park JO, et al. Combined genomic and epigenomic assessment of cell-free circulating tumour DNA (ctDNA) improves assay sensitivity in early stage colorectal cancer (CRC). Proceedings: AACR Annual Meeting 2019; DOI: 10.1158/1538-7445.AM2019-916.
Westesson O, Axelrod H, Dean J, He Y, Sample P, Zotenko E, et al. Abstract 2316: Integrated genomic and epigenomic cell-free DNA (cfDNA) analysis for the detection of early-stage colorectal cancer. Proceedings: AACR Annual Meeting 2020; Cancer Res 2020;80; 10.1158/1538-7445.AM2020-2316.
Increasing Colorectal Cancer Screening: An Action Guide for Working with Health Systems. The Centers for Disease Control and Prevention, US Dept of Health and Human Services; 2013.
In the event the test is not fully covered by insurance, patients may be eligible for financial assistance based on medical and financial need. To learn more, contact Guardant Health client services. For patients without insurance, the cash pay rate for Guardant Reveal is $3,500 effective the first day of commercial launch February 26, 2021.
We use cookies on our website to give you the most relevant experience by remembering your preferences and repeat visits. By clicking "Accept all", you consent to the use of ALL the cookies.
Furthermore, by clicking "Accept all", you are directing us to disclose your personal information to third parties for purposes of cross-contextual behavioral advertising. For more information, please refer to our
privacy policy
.
Privacy Overview
This website uses cookies to improve your experience while you navigate through the website. Out of these cookies, the cookies that are categorized as necessary are stored on your browser as they are essential for the working of basic functionalities of the website. We also use third-party cookies that help us analyze and understand how you use this website. These cookies will be stored in your browser only with your consent. You also have the option to opt-out of these cookies. But opting out of some of these cookies may have an effect on your browsing experience.